Signature Panels - Temporary Modular Fence Panels
Signature Fencing is the world's premier portable fencing for special events and crowd control. From PGA tournaments to NASCAR tracks, Signature PVC picket fencing has proven itself at thousands of events worldwide. It is the perfect upscale choice to spice up your next event and create the right image for your facility.
Signature upscale special event panels are ideal for any facility or event that needs an attractive and cost effective solution for temporary and permanent crowd control. Attractive, classic white, expertly crafted and uniform panels are appealing from all points of view. Signature panels are a welcome alternative to traditional, heavy wood or metal barricades. Freestanding Signature panels delineate traffic flow while enhancing the image of your event and facility.
Safe vinyl panels have no rough surfaces, nails, splinters or sharp edges to injure spectators or participants, lowering your event's liability. Our panels are environmentally safe, recyclable and non-toxic. Durable and maintenance-free PVC panels contain high impact modifiers and superior UV inhibitors which increase their longevity for many years of use. Signature panels never need painting and will not rot, warp, rust or corrode. Panels are easy to keep clean with common household cleaners.
Easy to maneuver, these sturdy fence panels are pre-assembled. Freestanding panels can be deployed in minutes without tools and with a minimum amount of labor. They utilize shock cord connectors hidden under caps. Panels lock together quickly and easily for increased stability and decorative caps are attached to prevent loss during set-up and tear-down. Base legs swivel to fold flat for easy storage and transportation.
Learn more about the benefits of this high-quality event fencing here.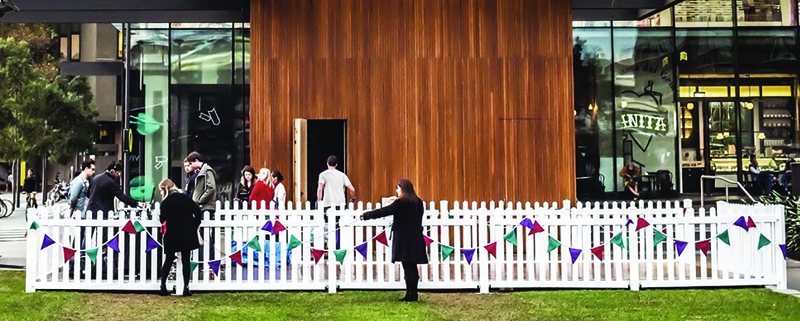 These Traditional and Picket Temporary Fence Panels are designed for quick and easy installation, often increasing functionality and ease of use in crowded areas. They can be set up without the use of any tools, and allows for the creation of of custom sized enclosed areas. The pristine white finish of the panels gives it a premium look and feel that's sure to add a touch of traditional American charm to any occasion. These fence panels are light enough to be transported with ease, yet sturdy enough to handle larger crowds, making them the ideal solution for seating, outdoor events, trade shows, festivals, and more!
Key Features:
. Available In Traditional or Picket Styles
. Will Not Rot, Warp, Rust, or Corrode
. Lightweight And Easy To Setup With No Tools Needed
. UV-Inhibitors Increase Longevity and Allow For Short or Longterm Outdoor Usage
. Can Be Easily Cleaned and Disinfected Using Common Household Cleaners
. Panels Interlock With Patented Hook and Loop Mechanism
. Can Turn 90° and Create Custom Sized Enclosures For All Occasions
. Sections Are Easily Stackable, Meaning Minimal Storage Space Required
. Frame Material: UV-Inhibited, Titanium Dioxide Additive, High Impact, Compounded PVC Frame and Fittings
. Dimensions: 6' Wide x 3'6" Tall x 3.5" Deep
Important Note:
Shipping will not calculate automatically. Please call or submit a quote request online to calculate shipping.
Picture
Description
Size
Buy Now

SP01
Signature Panel
Traditional Style

6' x 42"

SP02
Signature Panel
Picket Style

6' x 42"

SPP
ModFence Post - White

6' x 3 1/2" Sq.
Shipping will not calculate automatically. Please call or submit a quote request online to calculate shipping.
These panels will arrive to you pre-assembled, however it is possible to request that they arrive dis-assembled to save on shipping fees. Unlike most fence panels that are tricky and frustrating to put together, Signature Panels can be installed in a few simple steps. View our easy-to-follow installation instructions here.