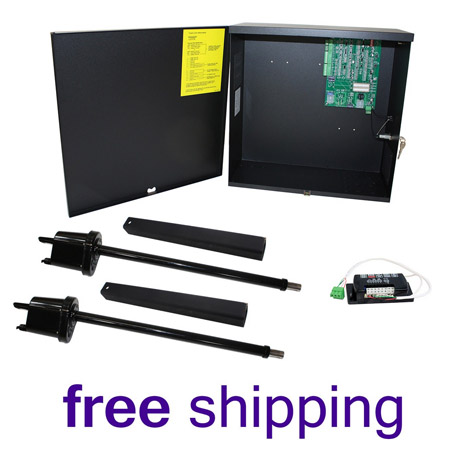 The Apollo 1650 ETL Smart gate opener. APOLLO 1650 ETL Up to 16ft & 600lbs per Gate.

APPLICATIONS:
Battery Operated, Solar or AC Charged Swing Gate Operator. Recommended for Residential, Farm and Ranch, and Light Commercial applications. Recommended for gates up to 16 feet in length and 600 lbs. each.
SPECIAL APPLICATIONS:
Can be used in push to open or pull to open applications. This permits the
choice of having the actuator inside or outside the gate regardless of hinge left or right. Direct drive system attaches directly to the gate.
OPEN OR CLOSE CYCLE TIME:
Each direction, 15 seconds.
BATTERY/ CONTROL PANEL BOX:
18" (46cm) x 18" (46cm) x 8"
(20cm) Powder Coated Black,
Weather resistant NEMA 3R.

ACTUATOR: (2)
Rust Proof linear, acme screw drive;
self-lubricating gears. Supplied with
8 ft. of cable. 38' cable for slave
actuator. Externally adjustable limit switches.

SHIPPING INFORMATION:
3 boxes, 100 lbs. (45 kg)
AVAILABLE OPTIONS:
• AC Trickle Charger or Solar Panels
• Complete Line of Radio Transmitters and Receivers
• Wired or Wireless Digital Keypads
• Wired or Wireless Exit Buttons
• Intercom Systems
• Telephone Entry Systems
• Locks – Mechanical, Magnetic, Solenoid
• Safety and Free Exit Loop Detectors
• Safety Edges
• 3-Button Control Stations
• Exit Probe Detectors
• Photocell Detectors

WARRANTY: All Apollo Gate Operators have a two-year limited warranty against
manufacturing defects.