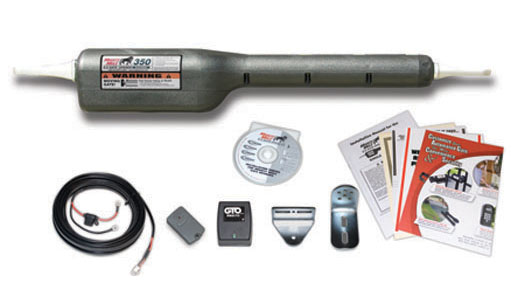 | | | | |
| --- | --- | --- | --- |
| Description | List Price | Our Price | Buy Now |
| Mighty Mule FM-350 | $475.00 | $295.00 | No Longer Available |
Now offering FREE SHIPPING on all GTO Operators!
The Mighty Mule® (FM350) will handle gates up to 16 ft. long or up to 550 lbs.
• Easy to install one piece low-voltage system
• No electrician required.
• Solar Compatible.
• Up to 1500 cycles per day, with battery back up.
• One single gate opener
• One Entry Transmitter
• Installation hardware
• Battery harness
• Receiver
• Installation manual
• Plug-in Transformer
• Installation video
• Warning signs (2)
• 12 month limited warranty

No Battery Included
The Mighty Mule® 350 E-Z Gate Opener is designed for installation on a pull-to-open single leaf gate (gates that open into the property). By purchasing an accessory bracket (FM148), the Mighty Mule® E-Z Gate Opener can accommodate a push-to-open single leaf gate (gates that open out from the property). The gate must not exceed 8 feet and 550 pounds or exceed 16 feet and 150 pounds . The Mighty Mule® E-Z Gate Opener can be used on vinyl, aluminum, chain link, farm tube, and wrought iron gates. Use on solid (wood) gates is not recommended. Solid surface gates have a high resistance to the wind. If the wind is strong enough, the opener will obstruct and stop.

The Mighty Mule® E-Z Gate Opener features adjustable obstruction sensing. This safety feature makes the gate stop and reverse direction within 2 seconds when it comes in contact with an obstruction. MIN is the factory setting; meaning the gate will exert the minimum force on an obstruction before it stops and reverses direction.
The Mighty Mule® E-Z Gate Opener also has an adjustable auto-close feature. After the gate reaches the fully open p,orque at 12 V.
• Maximum opening arc of 110º. Approximate opening time (90º): 18 seconds, depending on weight of gate
---
POWER
• The system is powered by a 12 Vdc automotive or marine battery.
• Battery charge is maintained by a 120 Vac, 18 Vac output transformer [rectified to 14.5 Vdc (40 VA) through the
GTO control board] or by optional GTO Solar Panels [the panel should generate minimum of 5 W at 300 mA]. A
diode on the control board prevents battery discharge.
IMPORTANT: Never use both transformer and solar panel - this will damage the battery and control board.
• One (1) blade-style control board fuse is rated for 15 A.
NOTE: The transformer should not be directly connected to any battery. Do not replace fuses
with higher ampere rated fuses; doing so will void your warranty and may damage your control board.
---
CONTROL
• GTO microprocessor-based control board is set for single leaf, pull-to-open gate installations. DIP switches can be
adjusted to accommodate an optional kit for push-to-open gates (see Accessory Catalog).
• Control board has temperature compensated circuits.
• A circuit on the control board regulates charging. "Sleep draw" is 25 mA; "active draw" is 2 to 5 A.
• Auto-memorization of digital transmitter code.
• GTO remote-mounted RF receiver tuned to 318 MHz.
• Opener length with push-pull tube fully retracted is 371/4", mounting point to mounting point.
• Adjustable auto-close timer (OFF to 120 s), and obstruction sensitivity.
• Power terminal bock accommodates a transformer or solar panels.
• DIP switches simplify setup of gate opener.
• Accessory terminal block fully compatible with all Mighty Mule access controls.
• Control board allows connection of safety edge sensors and photoelectric sensors.
• Audio entrapment alarm sounds if unit encounters an obstruction twice while opening or closing.
---
OPERATIONAL CAPACITY
• The Gate Capacity Chart shows approximate cycles, per day, you can expect from the Mighty Mule 350 Automatic
Gate Opener when powered with a transformer. Actual cycles may vary slightly depending upon the type and condition
of gate and installation.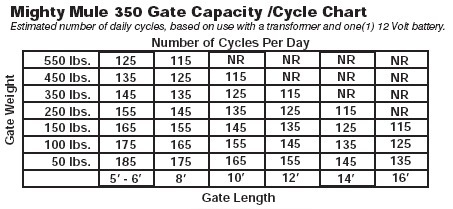 | | |
| --- | --- |
| | |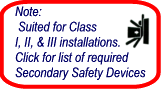 Discount Fence Supply, Inc.
10050 Wellman Rd. Streetsboro OH 44241
Phone800/878-7829 � FAX 330/650-9004