The GTO/PRO Automatic Slide Gate Operator is designed for chain link, ornamental iron, and tubular steel gates. This gate opener is battery powered; the battery charge is maintained by either the AC Transformer (included) or the Solar Panel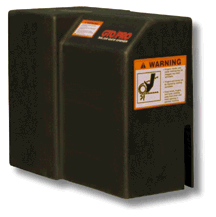 . The battery acts as its own backup during a loss of power service and will provide power for many gate opening and closing cycles before needing a recharge.

The heavy duty, 14 V AC 40 VA transformer can provide enough power for continuous cycling! While solar panels are an option, and will provide many cycles per day, they will not provide enough power for continuous cycle duty. You must use the transformer for continuous cycle duty.

The GTO/PRO SL 1000 automatic gate opener line includes operators for both single and dual installations. GTO/PRO slide gate openers have adjustable auto-close and obstruction sensing features.

GTO offers a full line of accessories for your operator such as Entry Transmitters, Digital Keypads, Concrete Mounting Pad, Solar Panels, etc. GTO/PRO gate operators are also "add-on ready" for more sophisticated options such as exit loops, card readers, exit wands, and more.

All GTO/PRO Automatic Gate Openers are covered by a Two Year Warranty.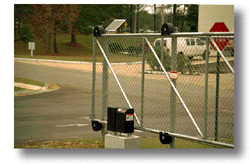 SINGLE GATE SYSTEMS
GTO/PRO SL-1000 Single slide gate opener: The GTO/PRO SL-1000 gate opener is designed for residential, rural, and commercial use on single slide gates that are up to 30 ft. in length with a 20 ft. opening, and that weigh up to 500 lbs. The PRO SL-1000 includes: operator; Class 2, 14 volt AC transformer; 12 volt battery; control box/"heavy duty" control board; receiver with 10 ft. cable; entry transmitter; mounting hardware; 32 ft. chain; installation/safety manual; warning signs.

DUAL GATE SYSTEMS
GTO/PRO SL-1000 and GTO/PRO SL-1200 dual slide gate system: The GTO/PRO SL-1200 works as a "slave" automatic gate opener when installed with the GTO/PRO SL-1000. The PRO SL-1200 will work on gates that are up to 30 ft. in length and that weigh up to 500 lbs. The PRO dual slide gate system will accommodate a maximum opening of 40 ft. The PRO SL-1200 wires into the "master" control box; the control board can be programmed for dual gate operation and the sequencing of the two gates. The PRO SL-1200 includes: operator, 60 ft. power cable, mounting hardware, 32 ft. chain, warning signs.

"LOCKING" SLIDE GATE OPERATOR SYSTEMS

The GTO/PRO SL-1000/1200 B "locking" slider The GTO/PRO SL-1000B (and SL-1200B for dual gates) features a built-in brake that locks the gate in the closed position. The brake automatically releases when the gate is activated. The "locking" slider has all the same great features as the PRO SL-1000, including continuous cycle capability, adjustable obstruction sensing, etc.

Guaranteed Lowest Prices on the Internet