Elite Aluminum Fence Products have been making high quality aluminum fencing since 1986. All Elite aluminum fences are powder coated & come with a lifetime warranty so you know your aluminum fence is protected. Elite manufactures residential, commercial, industrial, and heavy industrial grade fencing as well as aluminum estate and cantilever gates. Elite offers most ornamental aluminum fences in black, white, brown, beige, green, walnut, and sandstone with accessories, such as finials, ball caps, and lock boxes.
Elite's residential grade aluminum fences are available in six standard styles, including the EFS-10, EFS-15, EFF-20, EFF-25, EFS-50, and EFS-55. The EFS-15 comes with open finials at the same height. The EFS-15 aluminum fence sections have pickets with finials of alternating heights. Elite EFF-20 fences have an aluminum top rail with no finials. Elite EFF-25 aluminum fencing offers a blend of the previous styles and showcases decorative finials and a covering top rail. EFS-50 & EFS-55 aluminum fence sections are marked by concave and convex arching open finials, respectively. Each one of these Elite fences comes in 3', 4', 5', and 6' heights.
Each style of residential Elite aluminum fencing is also offered in different grades for commercial and industrial fencing applications. These aluminum fences are produced in 4', 5', 6', 8', and 10' heights. The EFS-20 and EFS-25 style fence sections are also available in 54" heights for pool grade aluminum fence. Each style of Elite Aluminum Fence has a variety of ornamental options for gates and accessories, such as butterfly scrolls and fleur-de-lis finials.
Current Promotion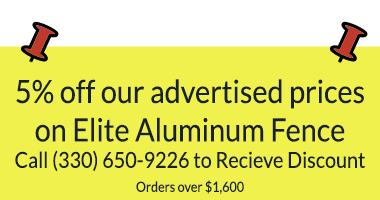 As an authorized Elite aluminum fence distributor, Discount Fence Supply is committed to finding the perfect fencing solution for your needs. Email us any time at sales@discountfence.com or call us Monday through Friday 8:00am - 5:00pm EST at 1-800-878-7829 for a fence quote, pricing, and help deciding which fence style best suits your needs and budget. We ship all over the United States on a daily basis. We also ship internationally to numerous places, including Canada, Mexico, Europe, and Asia. Please call or email us today to get the latest sales and discounts on Elite aluminum fencing.