Aluminum, Steel, and Wrought Iron Fence Privacy Slats for 1" Pickets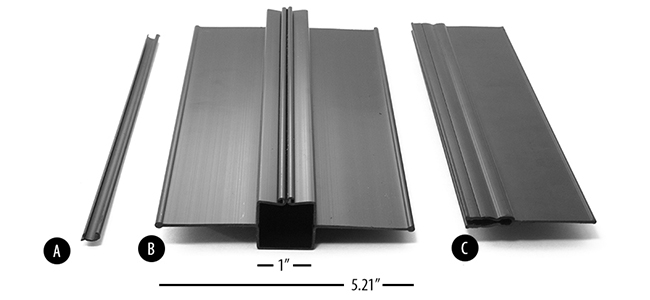 A. Privacy Lock (Optional)
B. Privacy Slat
C. Extender Clip (Optional)
Picket Size: 1"
Panel Length: 5.21"
We carry an assortment of high quality slats to transform your aluminum, steel, or wrought iron fence into a privacy fence. The following privacy slats will fit fences with 1" pickets.
What are extender clips?
To close the last gap between the last picket of a fence section and the post, we recommend purchasing extension clips.
What are lock strips?
Lock strips keep your slats in a stationary position. They are great for securing your slats, and are ideal if you don't plan on turning them. It is possible to remove the locks after installing them.
Height:

Description:

Our Price:

Buy Now:

4' High

Ornamental Privacy Slat Kit 4' H.
Fits: 1" x 1" Pickets (20 Slats) Covers approx 8ft.


$159.04

4' High

Lock Strips (20) for 4' High Pickets

$28.84

4' High

Extender Clip for 4' High Pickets

$9.10
Height:

Description:

Our Price:

Buy Now:

5' High

Ornamental Privacy Slat Kit 5' H.
Fits: 1" x 1" Pickets (20 Slats) Covers approx 8ft.

$198.80

5' High

Lock Strips (20) for 5' High Pickets

$35.84

5' High

Extender Clip for 5' High Pickets

$11.38
Height:

Description:

Our Price:

Buy Now:

6' High

Ornamental Privacy Slat Kit 6' H.
Fits: 1" x 1" Pickets (20 Slats) Covers approx 8ft.

$238.56

6' High

Lock Strips (20) for 6' High Pickets

$43.12

6' High

Extender Clip for 6' High Pickets

$13.66
FREE SHIPPING ON ALL SAMPLES
Description:

Our Price:

Buy Now:

Ornamental Privacy Slat Sample
Fits: 1" x 1" Picket


$5.00

$2.50

$2.50